Canton
From DipWiki
By Paul Webb.
Introduction
Canton is a seven-player Diplomacy variant set in Asia at the beginning of the 20th century. The "Great Powers" are Britain, China, France, Holland, Japan, Russia, and Turkey. Return to this era and determine the fate of Asia.
The Map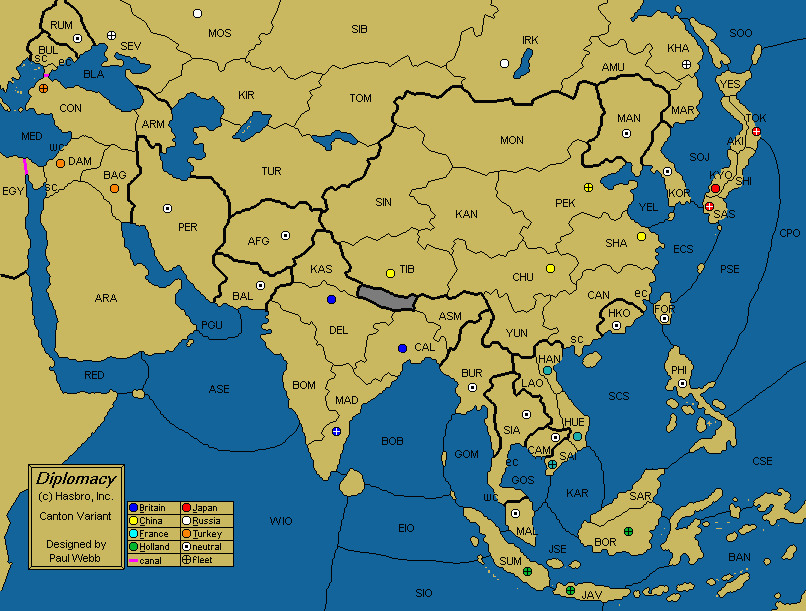 Rules
Standard Diplomacy rules apply to the Canton variant.
There are a total of 36 supply centers. Ownership of 19 centers after the fall retreat is necessary for victory.
Canals: Constantinople (Con), Egypt (Egy).
Multiple coasts: Bulgaria (Bul) EC/SC, Canton (Can) EC/SC, Damascus (Dam) WC/SC, Siam (Sia) WC/EC.
Impassible: Nepal (Nep).
Canton Diplomacy begins in Spring 1901.
Starting Positions
Britain (B)
A - Calcutta (Cal)
A - Delhi (Del)
F - Madras (Mad)

China (C)
A - Chungking (Chu)
A - Shanghai (Sha)
A - Tibet (Tib)
F - Peking (Pek)

France (F)
A - Hanoi (Han)
A - Hue (Hue)
F - Saigon (Sai)

Holland (H)
F - Borneo
F - Java (Jav)
F - Sumatra (Sum)	

Japan (J)
A - Kyoto (Kyo)
F - Sasebo (Sas)
F - Tokyo (Tok)

Russia (R)
A - Irkutsk (Irk)
A - Moscow (Mos)
F - Khabarovsk (Kha)
F - Sevastopol (Sev)

Turkey (T)
A - Baghdad (Bag)
A - Damascus (Dam)
F - Constantinople (Con)

Province abbreviations
Britain (B)
ASM - Assam
BOM - Bombay
CAL - Calcutta
DEL - Delhi
KAS - Kashmir
MAD - Madras

China (C)
CAN - Canton
CHU - Chungking
KAN - Kansu
MON - Mongolia
PEK - Peking
SHA - Shanghai
SIN - Sinkiang
TIB - Tibet
YUN - Yunnan

France (F)
HAN - Hanoi
HUE - Hue
LAO - Laos
SAI - Saigon

Holland (H)
BOR - Borneo
JAV - Java
SAR - Sarawak
SUM - Sumatra

Japan (J)
AKI - Akita
KYO - Kyoto
SAS - Sasebo
SHI - Shikoku
TOK - Tokyo
YES - Yesso


Russia (R)
AMU - Amur
IRK - Irkutsk
KHA - Khabarovsk
KIR - Kirghiz
MAR - Maritime Province
MOS - Moscow
SEV - Sevastopol
SIB - Siberia
TOM - Tomsk
TUR - Turkestan

Turkey (T)
ARA - Arabia
ARM - Armenia
BAG - Baghdad
BUL - Bulgaria
CON - Constantinople
DAM - Damascus
EGY - Egypt

Neutral Supply Centers
AFG - Afghanistan
BAL - Baluchistan
BUR - Burma
CAM - Cambodia
FOR - Formosa
HKO - Hong Kong
KOR - Korea
MAL - Malaya
MAN - Manchuria
PER - Persia
PHI - Philippines
RUM - Rumania
SIA - Siam		

Seas
ASE - Arabian Sea
BAN - Banda Sea
BLA - Black Sea
BOB - Bay of Bengal
CSE - Celebes Sea
CPO - Central Pacific Ocean
ECS - East China Sea
EIO - East Indian Ocean
GOM - Gulf of Martaban
GOS - Gulf of Siam
JSE - Java Sea
KAR - Karimata Strait
MED - Mediterranean Sea
PGU - Persian Gulf
PSE - Philippine Sea
RED - Red Sea
SCS - South China Sea
SIO - South Indian Ocean
SOJ - Sea of Japan
SOO - Sea of Okhotsk
WIO - West Indian Ocean
YEL - Yellow Sea