Allan B Calhamer
From DipWiki
Allan B. Calhamer (born December 7, 1931) invented the board game Diplomacy.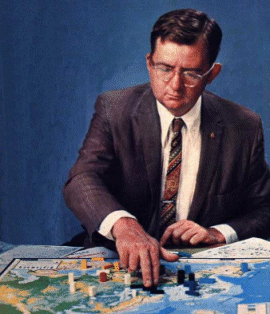 A friend of Calhamer's recounted how, when they were boys in La Grange Park, Illinois, he and Calhamer "discovered in the attic a geography book that showed a map of Europe before World War I with the ... old boundaries." Years later, Calhamer put the memory to good use. He received his bachelor's degree from Harvard University in 1953. In 1954, while enrolled at Harvard Law School, he developed a game of strategy and alliances that put seven players in control of the major powers of the pre-World War I era. Although he did not complete law school, his prototype game, still unpublished, was part of the reason that Sylvania hired him in 1958 to do operations research.

In 1959, Calhamer published his game as Diplomacy. He printed 500 copies. After selling all of them in six months, he licensed the game to a publisher. Over the years, Diplomacy has been published in North America by Games Research, Avalon Hill, and Hasbro, and has been published in several different languages in other nations by various publishers. Calhamer's original face-to-face board game has also been played by mail since 1963. More recently, there are internet Diplomacy games, games run through email or in online games with a human game master.
Calhamer wrote a book, Calhamer on Diplomacy: The Boardgame "Diplomacy" and Diplomatic History, but the game has not provided him with a living. As of 2004 he is retired from working as a mail carrier in La Grange Park.
Articles written by Calhamer