Post Modern Africa
From DipWiki
Designed by: Earle Ratcliffe
Variant homepage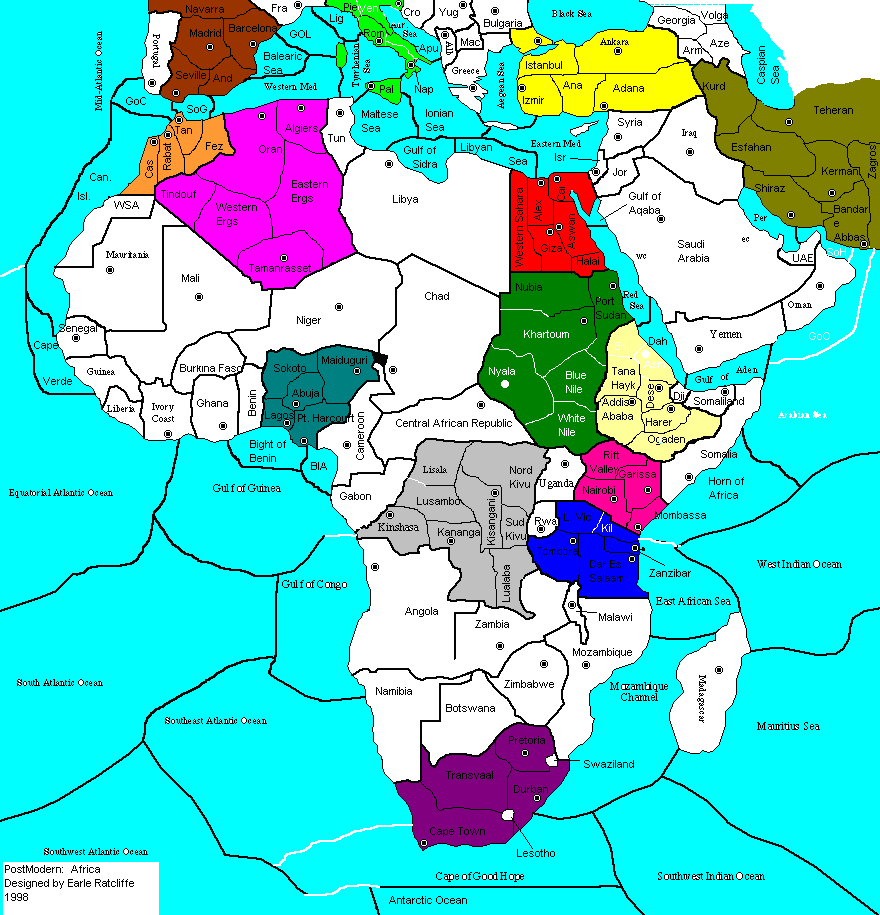 Variant Description:
Justifying an African war doesn't need much explanation. Civil wars in Algeria and Somalia are still going on (with Somaliland breaking away as a seperate republic from Somalia). Rebels in northeastern Congo gained support of several neighbours, including Uganda, Rwanda and Burundi, while Namibia, Zimbabwe and Angola all sent military aid to the Congolese government. Moroccan occupation of the Western Sahara might not sit well with neighbours, and tensions between Ethiopia and Eritrea are increasing (it is assumed that Ethiopia succeeded in the conquest, as Asmara is the Eritrean capital).
Map Notes:
1) Canals
Istanbul and Cairo act as they do in Modern and PM-Europe. In addition, the Volga canal is operative, allowing movement between the Caspian and Black Seas. This was added to allow Turkey and Iran to bring fleets against each other, as well as making the Black Sea a potential battleground, rather than having it sit there useless to everyone except as a retreat space for Turkey.
2) Indistinct borders
Some borders may not be entirely clear due to their small size.
Kilimanjaro borders Horn of Africa and East African sea
Kinshasa borders Gulf of Guinea and Gulf of Congo
Tangiers borders Canary Islands, Gulf of Cadiz and Straits of Gibraltar
Kazakhstan borders Volga at the north
Namibia borders Zambia but not Zimbabwe
Botswana borders Zambia, Namibia and Zimbabwe
Maiduguri does not border Chad, as Lake Chad is in the way
Palermo borders Naples, and Tyrhennian Sea borders the Ionian Sea. The four spaces come together at a point, allowing travel between them all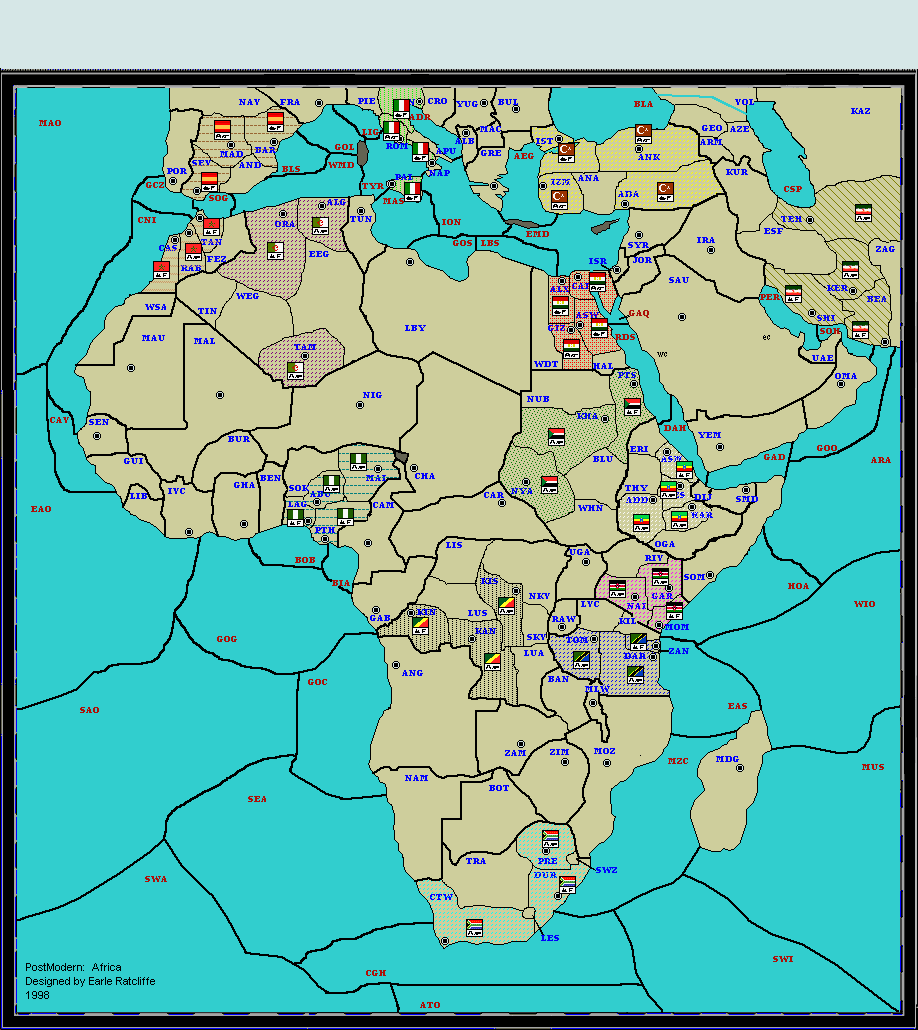 Powers And Starting Units:
Spain: Barcelona(bar), Madrid(mad), Seville(sev).
Italy: Naples(nap), Palermo(pal), Rome(rom), Venice(ven).
Turkey: Adana(ada), Ankara(ank), Istanbul(ist), Izmir(izm).
Iran: Bandar e Abbas(bea), Kerman(ker), Shiraz(shi),Teheran(teh).
Morocco: Casablanca(cas), Rabat(rab), Tangier(tan).
Algeria: Algiers(alg), Oran(ora), Tamanrasset(tam).
Egypt: Alexandria(alx), Aswan(asw), Cairo(cai), Giza(giz).
Nigeria: Abuja(abu), Lagos(lag), Maiduguri(mai), Pt. Harcourt(pth).
Sudan: Khartoum(kha), Nyala(nya), Port Sudan(pts).
Ethipoia: Addis Ababa(add), Asm(asm), Dese(des), Harer(har).
Congo: Kananga(kan), Kinshasa(kin), Kisangani(kis).
Kenya: Garissa(gar), Mombassa(mom), Nairobi(nai).
Tanzania: Dar Es Salaam(dar), Tombora(tom), Zanzibar(zan).
SouthAfrica: Cape Town(ctw), Durban(dur), Pretoria(pre).