1600
From DipWiki
1600 Variant
Created by: Tommy Larsson
Variant Description:
Europe_1600 is a simple map-change variant set in 17th century Europe.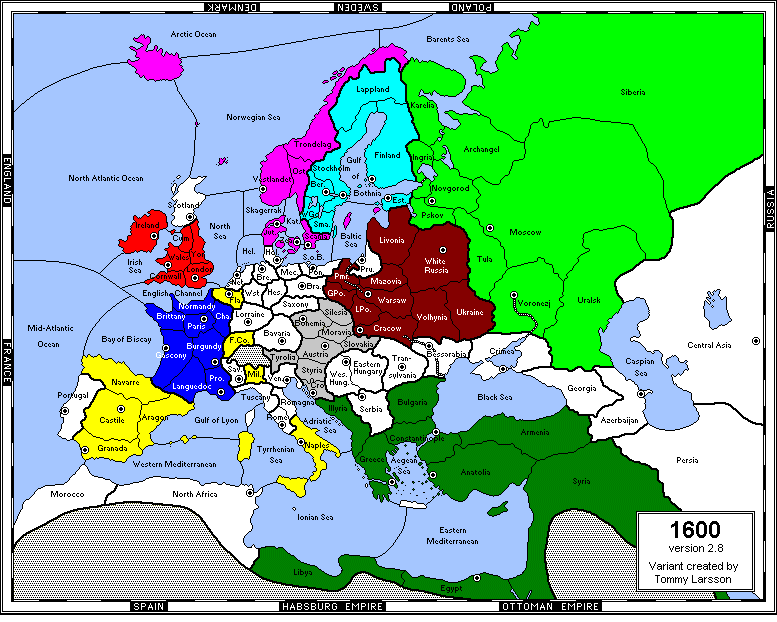 There are no special rules, but you should notice that the provinces of Ingria, Novgorod, Pomerelia, Warsaw, Crimea, Voronezj , Bessarabia and Cracow are canal provinces, making it possible to the otherwise landlocked powers of Poland and Russia to build fleets.

Fleet movement between Cracow and Mazuria is not allowed. Constantinople, Jutland and Zealand are also canal provinces just like Denmark, Sweden, Kiel and Constantinopel are in standard. Note that Holstein-Gottorp has two coasts, an east and a west coast, something that is not written on the map, as there was no room for the coast labels.

The fleet movement Hol (ec) - Jut is allowed in non-judge games, but not in judge games as the judges can't handle it. Switzerland is impassable. Stockholm and West Gothland do not border eachother and neither does Bergslagen and Smaland. These provinces are separated by the impassable lake Vättern.
Powers And Starting Positions: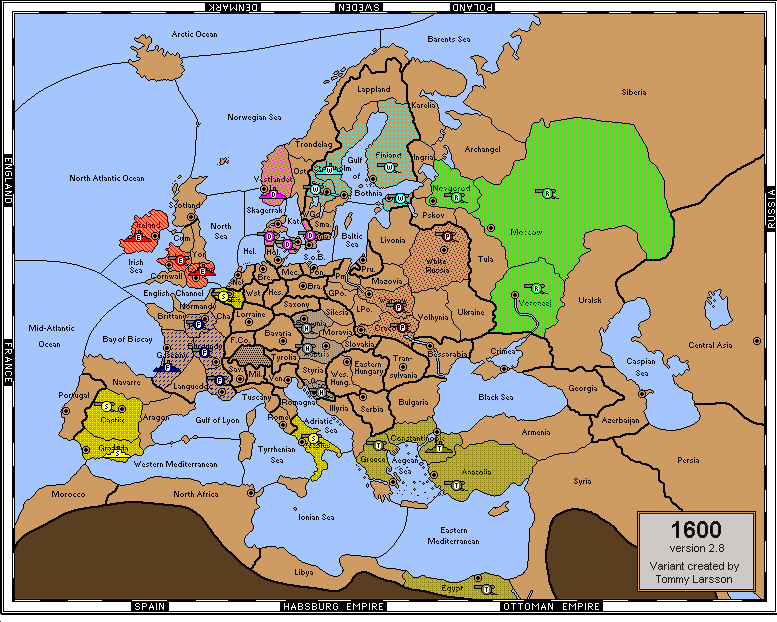 The starting positions are :

D-Denmark
- A Vestlandet
- A Scanla
- A Zealand
- F Jutland


E-England
- A Wales
- F Ireland
- F London


F-France
- A Burgundy
- A Paris
- A Provence
- F Gascony


H-Habsburg_Empire
- A Austria
- A Bohemia
- A Croatia


I-Spain
- A Castile
- A Flanders
- A Naples
- F Granada


P-Poland
- A White Russia
- A Cracow
- A Warsaw


R-Russia
- A Moscow
- A Novgorod
- A Voronezj


T-Ottoman_Empire
- A Anatolia
- A Egypt
- A Greece
- F Constantinople


W-Sweden
- A Finland
- A Stockholm
- A BER.
- F East Gothland (EST)


There are 50 supply centres, so you need 26 to win