Blitzkrieg
From DipWiki
Blitzkrieg aka 1939.Blitzkrieg. created 2002 in France
Created by: Stefan Mrdja; Written by: Stefan Krekeler (text revised by Craig Connell)
In Standard Diplomacy seven nations are standing on the edge of World War I. Taking place several years later, this 8-player, 53 Supply Center 1939.Blitzkrieg variant takes us to the beginning of the second global conflict. 27 Supply Centers are required to win this game.
Rules
1939 Blitzkrieg is played according to standard rules. In addition to the usual players, Spain is included in this variant; with Turkey and the Balkans playing a more active role. England starts play at two locations: the British Isles and North Africa / Egypt with a total of 5 Supply Centers.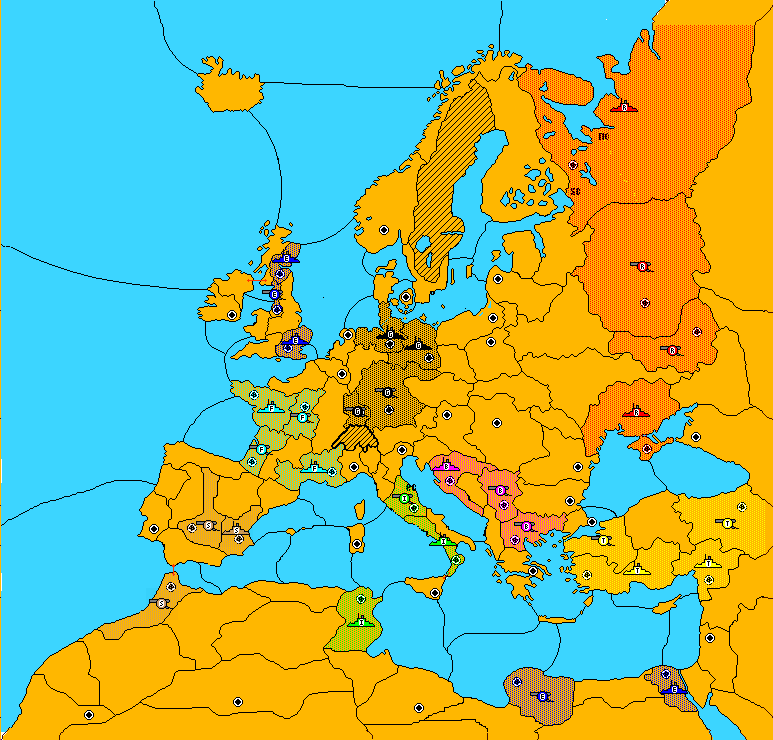 There are special features on the map, which is similar to the Modern Variant. Among the new items is the inclusion of Supply Centers in North Africa, two additional ones in Eastern Europe, the division of the Black Sea into two parts, and additional Supply Centers in Ireland, Sardinia and Sicily.
Coasts: Leningrad is divided into North and South Coast. The only opening play possible from the Fleet in (LEN) is to (LAP) or (BAR). The province Rome is divided into an East and West coast. Any unit in Sevastopol cannot move from (SEV) to (CAU) directly - or vice versa.
Passages / land bridges: There are three land bridges on the map: between Clyde (CLY) in Scotland and North Ireland (NIR); between Tanger (TAN) in Morocco and Granada (GRA) in Spain; and between Naples (NAP) to Sicily (SCI) in Italy. Armies do not need to use Convoy orders, but can directly use these passages. For example, A Fleet in Naples (NAP) can not directly move to Sicily (SCI) or vice versa. Only armies can use these land bridges.
The Sudan/Red Sea: A fleet in Alexandria cannot move into the Sudan (SUD), as the Red Sea is not passable.
Switzerland and Sweden are neutral provinces and thus are not passable.
The following islands are shown on the map, but are not occupiable: Corsica, Balearen, Cyprus, Crete
Unclaimed Provinces:
At the start of the game, these provinces contain unclaimed Supply Centers: Caucasus, Mauritania, Norway, Lithuania, Dublin, Denmark, French West Africa, Lisabon, Tripolitania, Damascus, Greece, Sicily, Venice, Bulgaria, Rumania, Piedmont, Hungary, Austria, Warsaw, Danzig, Holland, Belgium, Sardinia.