Post Modern Europe
From DipWiki
Designed by: Earle Ratcliffe and Vincent Mous
Variant homepage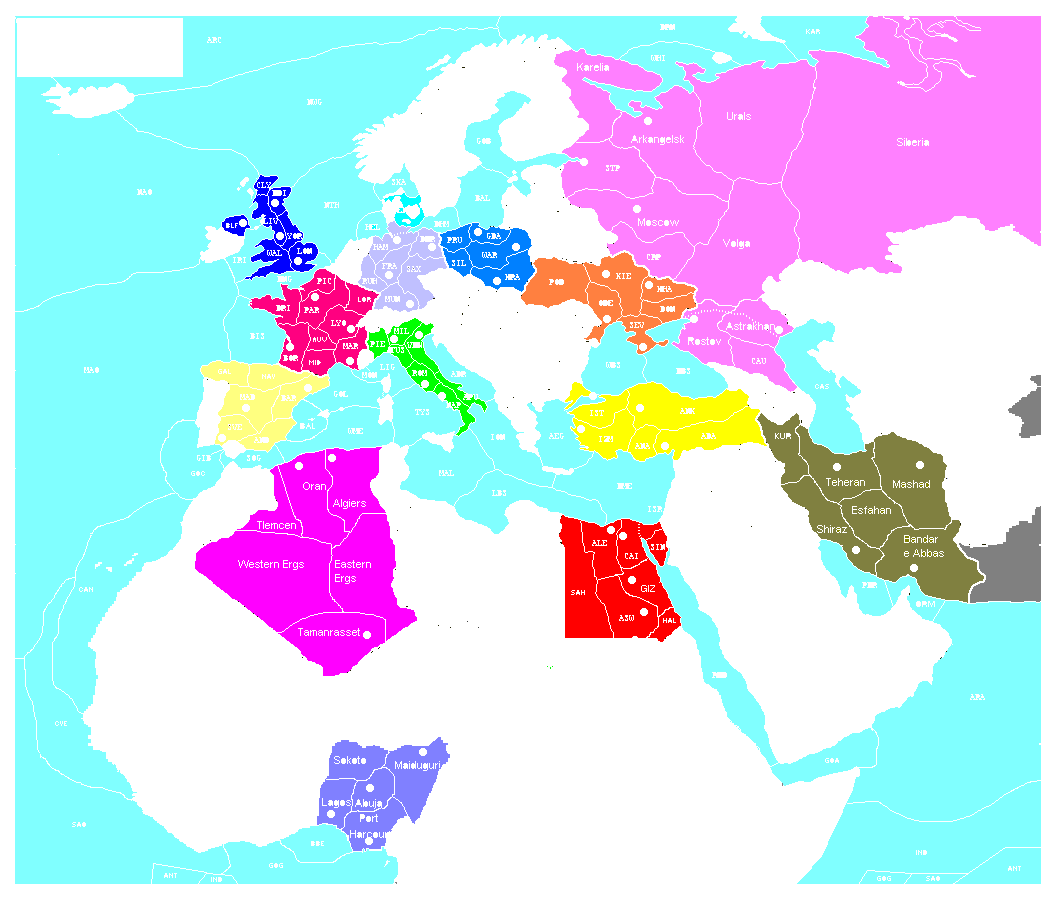 Starting Positions:
Algeria:  F Algiers, A Oran, A Tamanrasset 		
Britain:  F London, F Edinburgh, F Belfast, W Liverpool 	
Egypt:  F Alexandria, F Giza, A Cairo, A Aswan 	
France:  A Paris, A Lyon, A Marseilles, W Bordeaux 	
Germany:  F Berlin, F Hamburg, A Munich, A Frankfurt 	
Iran:  F Shiraz, F Bandar, A Mashad, A Teheran 	
Italy:  A Rome, A Milan, A Venice, F Naples 	
Nigeria:  A Abuja, F Lagos, A Maiduguri, F Port Harcourt 	
Poland:  A Warsaw, F Gdansk, A Kracow 		
Russia:  A Moscow, A St.Petersburg, A Astrakhan, F Rostov, W Arkangelsk
Spain:  A Madrid, F Seville, F Barcelona 		
Turkey:  F Ankara, A Istanbul, A Adana, F Izmir 	
Ukraine:  A Kiev, A Kharkov, A Odessa, F Sevastopol

Map Notes:
1: Canals
* Hamburg, Istanbul and Cairo all operate as in the Modern variant.
* The Volga Canal now runs through Astrakhan and Rostov, not Volga.

2: Circumnavigation Fleets may pass around the southern tip of Africa. The Indian Ocean space touches the Gulf of Guinea and The South Atlantic Ocean. There is also the Antarctic ocean space which touches the South Atlantic and Indian oceans (but not the Gulf of Guinea).