Sail Ho
From DipWiki
Created by "Tarzan" Variant Webpage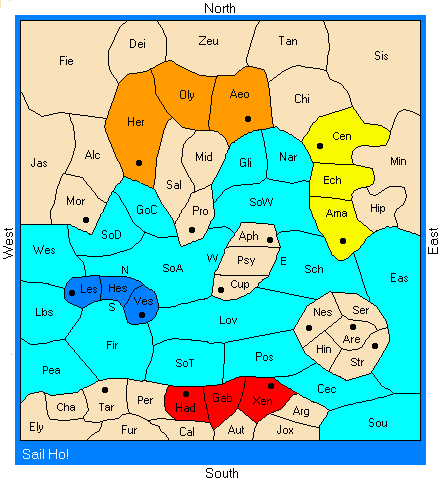 Variant Notes:
The idea for Sail Ho! began with Andy Schwarz' Hundred Years' War variant. This variant cleverly pits 3 players against one another. The beauty behind Andy's variant is that the game quickly (if not immediately) moves to the "mid-portion" of the game. That is, the neutral SCs are quickly acquired and the 3 players find themselves face-to-face with adversity.
During my "Interview with Manus Hand" I came to realize that both he and I shared the enjoyment of "convoying". This started me thinking. Very few (if any) variants emphasize the "convoy" order. It was at this point that Sail Ho! was conceived.
After spending some time searching through the many variants I noticed that very few were designed for an even number of players (much less for 4 players!).
My hope was to create a variant which addressed these "short comings".
Variant Map:
There are a total of 60 Provinces (43 Land Provinces and 17 Water Provinces). 11 of the Land Provinces are located on islands.
The 3 islands are named:
the Isle of Women (Les, Hes, Ves)
Cyprus (Aph, Psy, Cup)
Dissentos (Nes, Are, Hin, Ser, Str)
2 of the Land Provinces have "split coasts":
Village of Psyche (Psy) - East and West coasts
Shrine to Hestia (Hes) - North and South coasts
There are 16 Supply Centers (SCs). Half of the SCs are located on islands. 9 SCs are required for a solo victory.
Powers And Positions:
There are 4 Powers, each with 2 Home SCs. Each Power starts with 2 units (one in each of his Home SCs), as follows: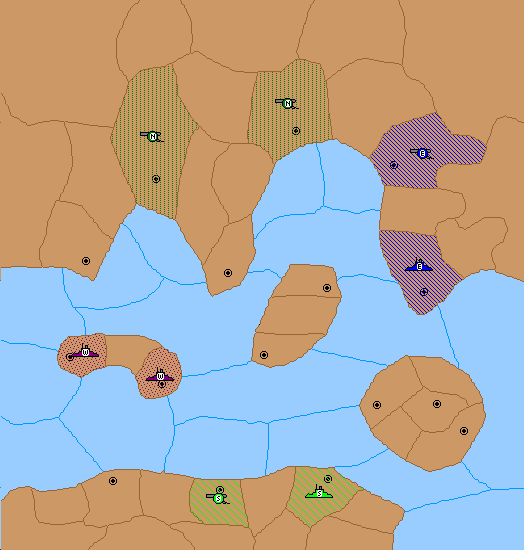 N-NORTH
A Hercules' Respite
A Village of Aeolus
E-EAST
A Centaur Forest
F Amazon Village
S-SOUTH
A Depths of Hades
A Xena's Rest
W-WEST
F Isle of Lesbos
F Convent of the Vestal Virgins
Map Provinces:
Abbr   Map Space Name                  Description 
Aeo   Village of Aeolus               Land     North's Home SC
Alc   Alcmene's Village               Land     
Ama   Amazon Village                  Land     East's Home SC
Aph   Aphrodite's Beach               Land     Neutral SC
Are   Palace of Ares                  Land     Neutral SC
Arg   Argo's Pasture                  Land     
Aut   Autolycus' Hideout              Land     
Cal   Callisto's Stronghold           Land     
Cec   Cecrops' Channel                Water    
Cen   Centaur Forest                  Land     East's Home SC
Cha   Charon's Crossing               Land     
Chi   Chiron's Cave                   Land     
Cup   Cupid's Cloud                   Land     Neutral SC
Dei   Deianeira's Grave               Land     
Eas   Eastern Ocean                   Water    
Ech   Echo's Glade                    Land     
Ely   Elysian Fields                  Land     
Fir   Sea of Fire                     Water    
Fie   Field of the Golden Fleece      Land     
Fur   Realm of the 3 Furies           Land     
Gab   Gabrielle's Village             Land     
Gli   Glittering Gulf                 Water    
GoC   Gulf of Chains                  Water    
Had   Depths of Hades                 Land     South's Home SC
Her   Hercules' Respite               Land     North's Home SC
Hes   Shrine to Hestia                Land     North and South Coasts
Hin   Forest of the Golden Hind       Land     
Hip   Hippolyta's Girdle              Land     
Jas   Jason's Kingdom                 Land     
Jox   Joxter's Retreat                Land     
Lbs   Lesbian Sea                     Water    
Les   Isle of Lesbos                  Land     West's Home SC
Lov   Lover's Lane                    Water    
Mid   Realm of King Midas             Land     
Min   Minotaur's Labyrinth            Land     
Mor   Morpheus' Palace                Land     Neutral SC
Nar   Narcissus' Reflection           Water    
Nes   Nestor's Kingdom                Land     Neutral SC
Oly   Mount Olympus                   Land     
Pea   Ocean of Peace                  Water    
Per   Persephone's Garden             Land     
Pos   Poseidon's Curse                Water    
Pro   Prometheus' Cliff               Land     Neutral SC
Psy   Village of Psyche               Land     East and West Coasts
Sal   Salmonius' Scheme               Land     
Sch   Scholars Channel                Water    
Ser   Serina's Village                Land     
Sis   Sisyphus' Hill                  Land     
SoA   Sea of Arrows                   Water    
SoD   Sea of Dreams                   Water    
SoT   Sea of Tears                    Water    
Sou   South Sea                       Water    
SoW   Sea of Waves                    Water    
Str   Strife's Cave                   Land     Neutral SC
Tan   Tantalus' Pool                  Land     
Tar   Tartarus                        Land     Neutral SC
Ves   Convent of the Vestal Virgins   Land     West's Home SC
Wes   Western Ocean                   Water    
Xen   Xena's Rest                     Land     South's Home SC
Zeu   Temple of Zeus                  Land