Star Trek
From DipWiki
Star Trek Diplomacy
by Gerald Todd The Diplomacy Tribune
As you may have guessed this is a Star Trek themed Diplomacy Variant. So far as I know, this is the first designed to run in the RealWorld judging software.
Peculiar to this Variant:
Units: There are armies but movement for them is very limited. Armies may move between ajacent supply centers, for instance Sol and Alp, but to move anywhere else will require them to be convoyed.
Map Spaces: All the map spaces are "sea" or "coastal" spaces. A unit may move in and out of any space into any ajacent space.
The Bajoran Wormhole: The Bajor space is adjacent not only to the spaces surrounding it, but also to the Idran space in the Dominion for both armies and fleets. The Idran space is likewise ajacent to the spaces surrounding it AND Bajor, by virtue of the wormhole.
Borg Assimilation: Any captured SCs can be built in by the Borg as if they were home SCs. Only the Borg have this ability. RealWorld is set up for Chaos Builds to accommodate that, so the GM must be sure to only allow the Borg player to build outside of his home centers.
Icons: Armies are represented by that power's symbol, fleets are represented by a starship image.
Victory: There are 49 supply centers in this variant. 25 are required for victory.
Starting Positions
Borg Collective: Borg Unicomplex, uni (A) 3249, (F) Cardassian Union: Cardassia Prime, car (A) Chin'Toka, chi (F) Lazon, laz (F)
Dominion: Idran, idr (A) Korill Prime, kor (F) Omarion, oma (F)
Ferengi Alliance: Feringinar, fer (A) Thalos, tha (F) Clarus, cla (F)
Klingon Empire: Archanis, arc (F) Khitomer, khi (F) Q'onos, qon (A)
Romulan Star Republic: Romulus, rom (A) Remus, rem (F) Pretorian, pre (F)
United Federation of Planets: Sol, sol (A) Betazed, bet (F) Alpha Centauri, alp (F) Vulcan, vul (F)
Neutral: (27) Deneb, Bajor, Kalidar, Kobheeria, Korniforous, Talar, Trill, Tezenketh, Antares, FCG-J25, Gorn, Tholia, Tessen, Zalkon, Zakdorn, Gamma Hydrae, 5215, Devore Imperium, Bomar Soveriegnty, Vidiian Solidarity, Kazon Collective, Argratha, Breen, Gavara, Merik, New Bajor, Torga.
Map with Starting Positions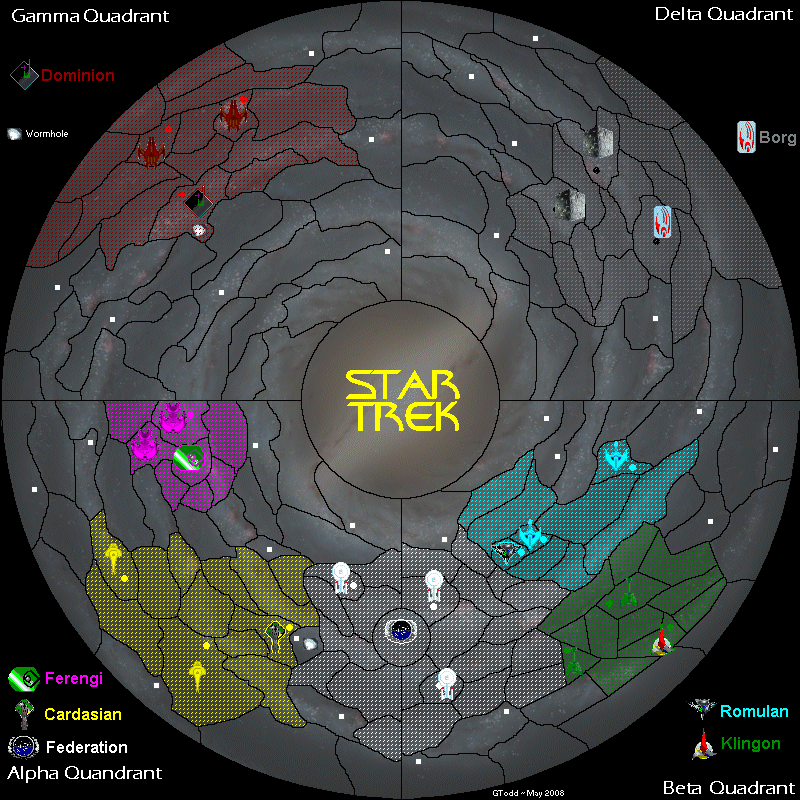 Sector Listing
Borg: Borg Unicomplex, uni * 3249, 3249 * 4050, 4050 * 2635, 2635 * 3424, 3424 * 3729, 3729 * 4233, 4233 * 4425, 4425 * 4544, 4544 * 4762, 4762 * 5054, 5054 * 5443, 5443 * 5725, 5725 * 6540, 6540 * Krenim, kre
Cardassian: Cardassia Prime, car * ChinToka, chi * Lazon, laz * Actrium, act * Amleth, aml * Athos, ath * Badlands, bad * Dopa, dop * Kelvas, kel * Olmerak, olm * Orias, ori * Torros, tor
Dominion: Idran, idr * Korill Prime, klp * Omarion, oma * Callinon, cal * Hdex IV, hde * Ken, ken * Lantar Nebula, lan * Omarion Nebula, neb * Parada, par * Samgalo, sam * Teplan, tep * T-Rogoran, tro * Vadera, vdr * Vandros, vds * Varala, var
Ferengi: Feringinar, fer * Clarus, cla * Thalos, tha * Balancar, bal * Irt, irt * Kholfa, kho * Rog, rog * Volchok, vol
Klingon: Archanis, arc * Khitomer, khi * Qonos, qon * Burun, bur * Boreth, bor * Donatu, don * Groth, gro * Hatoria, hat * Kvort, kvo * Tika, tik * Tohkaht, toh * Toron, trn
Romulan: Romulus, rom * Remus, rem * Pretorian, pre * Belak, bel * Nequencia, neq * Rator, rat * Talon, tln * Tarrod, tar * Terix, trx
UFP: Sol, sol * Alpha Centauri, alp * Betazed, bet * Vulcan, vul * Algol, alg * Acamar, aca * Andoria, and * Capella, cap * Castor, cas * Barradas II, bar * Bolarus, bol * Briar Patch, bri * Fellebia, fel * First Federation, fir * Hromi Cluster, hro * Jouret, jou * Kazar, kzr * Ophiucus, oph * Paulsons Nebula, pau * Regulus, reg * Terra Nova, ter * Vega, veg * Xarantine, xar * Xyrillia, xyr
Quadrants
Alpha-Quadrant: Deneb, den * Bajor, baj * Kalidar, kal * Kobheeria, kob * Korniforous, kor * Talar, tal * Trill, tri * Tezenketh, tze * Dreon, dre * Galen, gal * Gemulon, gem * Frederick, fre * Izar, iza * Mariah, mar * Megara, meg * Nehru, neh * Orellius, ore * Portas, por * Rolor Nebula, rol * Ultia Thule, ult * Valeria, val
Beta-Quadrant: Antares, ant * FCG-J25, j25 * Gorn, gor * Tholia, tho * tessen, tes * Zalkon, zal * Zakdorn, zak * Archer, acr * Amargosa, amg * Bellatrix, btx * Caldos, cld * Cambra, cam * Gamma Hydrae, gam * Makar, mak * Metron Consortium, met * Tybellia, tyb * Vodrey Nebula, vod * Zalda, zda
Delta-Quadrant: 5215, 5215 * Devore Imperium, dev * Bomar Soveriegnty, bom * Vidiian Solidarity, vid * Kazon Collective, kaz * 2825, 2825 * 3665, 3665 * Malon Cooperative, mal * North-West Passage, nwp * The Swarm, swa * Hierarchy, hir * VaaDwaur, vad * D01, d01 * D02, d02 * D03, d03 * D04, d04 * D05, d05 * D06, d06 * D07, d07 * D08, d08 * D09, d09 * D10, d10 * D11, d11 * D12, d12
Gamma-Quadrant: Argratha, arg * Breen, bre * Gavara, gav * Merik, mer * New Bajor, new * Torga, tga * Black Cluster, bla * Chamra Vortex, cha * Hurq, hur * Jenkata Nebula, jen * Karemma, kar * Kylata, kyl * Quasar M92, m92 * Obatta Cluster, oba * Rakhar, rak * Trialus, tls * Wadi, wad * Yaderan, yad * G01, g01 * G02, g02 * G03, g03 * G04, g04 * G05, g05 * G06, g06
Diplomacy is a trademark of Hasbro, Inc. Star Trek is a trademark of Paramount Pictures Corporation